NCB 's Services at a glance
News & Events

Important Links
NCB Ahmedabad Unit — (Activities)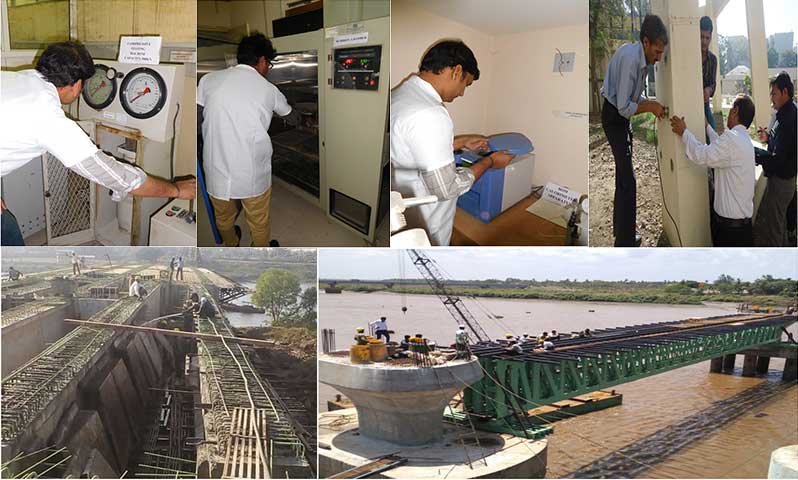 Services Offered at NCB Ahmedabad
Testing Facilities Available for the Following Materials
Cement and Cementitious Materials such as OPC, PPC, PSC, Fly ash, Slag, Silica-fume etc.
Aggregates – Complete physical and chemical analysis, Soundness
Special Concrete, Advance Concrete Composite & Standard Concrete Mix Designs
Ordinary concrete, standard concrete and High Strength Concrete using OPC, PPC, PSC, OPC + fly ash, OPC
+ Fly ash + silica fume etc.
Durability Studies of Concrete through Accelerated Test Methods
Carbonation induced reinforcement corrosion
Chloride induced reinforcement corrosion
Performance of concrete against Sulphate attack
Structural Assessment & Rehabilitation
Services Offered
In-situ quality assessment, durability investigation and residual life assessment of concrete
structures
NDT, Pile integrity testing
Distress investigations of buildings, bridges, dams, power plants, chimney, silo etc. deteriorated due
to aggressive environment or fire damaged structure
Consultancy for repairs/rehabilitation & retrofitting
Bridge diagnostic testing using state-of-the-art equipment
Structural Optimization and Design
Services Offered
Proof Checking of Structural Design
Service Life Design for concrete structures
Load testing and assessment of load-carrying capacity of structural elements
Construction Technology & Management
Services Offered
Quality control services to construction project through mobile laboratories
Technical Audit (TA), Quality Assurance & Quality Control (QA/QC) and Third Party Quality Audit
(TPQA) of new constructions- residential, commercial & institutional buildings; flyovers, concrete
roads, bridges etc.
Consultancy for fly ash based building products such as fly ash bricks, paver blocks, kerb stones,
aerated concrete block etc.
Third Party Inspection and Monitoring for construction projects such as Buildings, Roads, Underpasses,
Over Bridges, Drains, Causeway etc. of OIDC& PWD at Daman Diu & Dadra Nagar Haveli (Union Territory).
Third Party Audit & Quality Assurance for Retrofitting, Reconstruction of Health care facility buildings
and other allied works for Project Implementation Unit & Roads & Buildings Department (Government of
Gujarat).
Technical Audit and Quality Assurance including testing of materials, repairs, retrofitting, reconstruction
of building etc. for major reconstruction projects of earthquake affected areas for Gujarat State Disaster
Management Authority (GSDMA).
Third Party Inspection (TPI) For Quality Assurance and Inspection of Materials for Sports Infrastructure
Project of Sports Authority of Gujarat in Gujarat region.
Third party Technical Supervision, Monitoring & Quality Assurance for construction of new yard Including
building, road, earth works, fire Hydrant System, Water supply, Strom Water Drain, Electro Mechanical works,
Landscaping and ancillary works for The Agricultural Produce Market Committee-Amreli & Rajkot, Gujarat.
Third Party Inspection (TPI) For Quality Assurance and Inspection for various structures of Narmada main
canal, branch canal, distributaries, minor canal etc. at various sites of Sardar Sarovar Narmada Nigam Limited
in Gujarat region.
For further details please contact:
National Council for Cement and Building Materials
Smeet Bungalow,B/h Planet House-2(PH-2),
Opp. Shukan Shubh-Labh Apt.,
Off. Judges Bungalows road, Bodakdev,
Ahmedabad-380054, Gujarat, India
Phone:+91-79-26855840
Fax:+91-79-40305841
E-mail: brcncb@rediffmail.com